Sustainability
Establishing a low-carbon future has become an increasing point of geopolitical focus. The COP21 conference in Paris in 2015 marked a milestone of international cooperation in which 196 representatives in attendance reached an agreement on the reduction of climate change. The center of the agreement focused on reducing global warming to less than two degrees Celsius compared to pre-industrial levels and for zero net greenhouse gas emissions to be reached during the second half of the 21st century. On 22 April 2016, 174 countries signed this agreement and began to take steps to implement these measures into their own local jurisdictions.
The goal of promoting sustainability is at the core of EUROFIMA's public mission. Supporting the growth and development of passenger rail transport is key to addressing the problem of CO2 emissions attributable to the transportation sector. As countries across Europe work to meet the sustainability targets outlined by Europe 2020 and by the COP21 agreement, EUROFIMA is determined to serve as partner to its Contracting States in fulfilling their objectives.
Rail Transport Greenhouse Emissions
The transportation sector accounts for nearly 23% of energy-based CO2 emissions according to the International Energy Agency, of which road, maritime and air transport are the leading contributors. Despite efforts to make airplanes more energy efficient, the increasing use of air travel has offset the benefits realized per aircraft according to the European Environment Agency. In the automobile sector, the use of hybrid and electric vehicles has continued to increase, but automobiles still account for 72% of the total EU CO2 emissions.
Rail passenger transportation offers a viable solution to counteract these high levels of CO2 emissions. The International Union of Railways indicates that greenhouse gas emissions from rail transport is 85% lower than the average emission from road and air transport. In terms of land usage per passenger-km, rail is 3.5 times lower than for automobiles. In assessing the external costs of transport (i.e. the costs of the negative effects from transport not borne by the company but by society), rail usage has four times less the cost than roads for passenger transport and six times less for freight services.

Rail Transport Energy Efficiency

In addition to concerns regarding CO2 emissions, consideration must also be given to the efficiency with which energy is consumed. According to Eurostat, the rail transport sector accounts for only 2% of the energy consumed by the transport sector whereas road transportation accounts for 82%. This sharp contrast is due to the significant efforts made within the rail transport sector in Europe to electrify power lines and construct more energy efficient trains. Modern electric train consumes 85% less energy than an airplane and 70% less energy than a hybrid car per passenger/km.

EUROFIMA Sustainable Projects

EUROFIMA's public mission to support the development of passenger rail transport within its Contracting States is well aligned with its commitment to support a low-carbon future. As of year-end 2018, EUROFIMA had CHF 11.3 billion in development related loans outstanding, which are distributed among 14 Contracting States.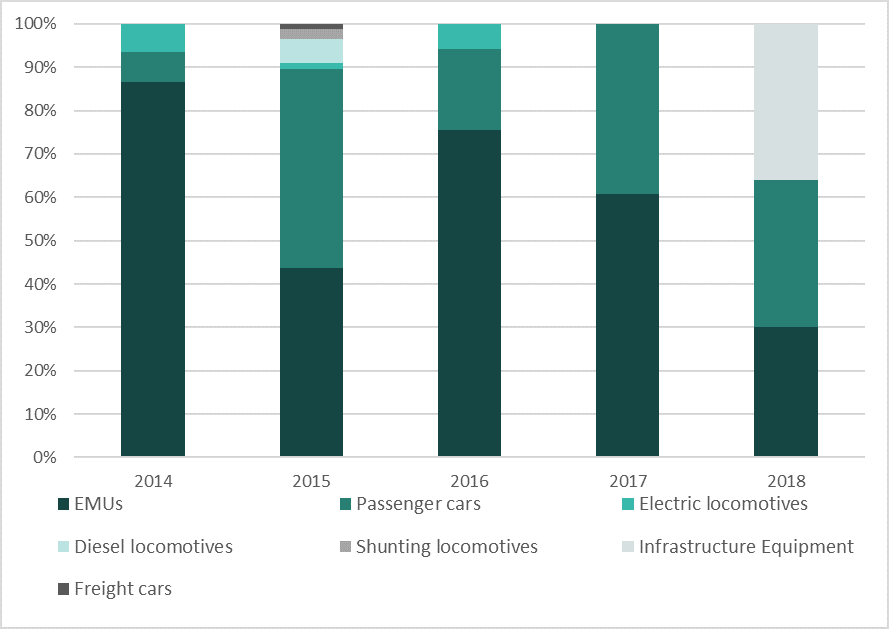 Social Mobility

The rail transportation sector plays a key role in furthering social cohesion, which in turn contributes to the overall betterment of people's lives. Further development of international and regional rail lines aides in promoting increased cross-border and domestic trade and in a more sustainable manner. Rail development, particularly regional and suburban, also aides in furthering labor mobility and social integration in an increasingly interconnected and diverse Europe. Lastly, according the European Union Agency for Railways, rail transport represents one of the safest modes of transport with only 0.13 fatalities per billion passenger/km as compared to 3.14 for automobiles and 48.94 for motorcycles.
Sustainability at EUROFIMA

EUROFIMA views its approach to sustainability from an inward-outward perspective. While it fulfills its public mission in supporting the development of a sustainable form of transport, EUROFIMA also aims to enact internal measures that ensure its business practices are in-line with its mission to support a low-carbon future and social integration. Therefore, EUROFIMA has internal policies in place that support the following:
Low-carbon transport: employees receive annual passes for local public transportation and an annual allowance for travelling by railway worldwide.
Diversity: the staff of EUROFIMA consists of eight different nationalities with more than 50% of the staff being non-Swiss.
Low employee turnover: EUROFIMA has a consistent record of low employee turnover with the average tenor of employment being 8.7 years as of year-end 2018.
Continuing education: EUROFIMA views education as a life-long process and it has measures in place to encourage and to provide financial assistance to employees in advancing their professional competencies.